International Human Rights Day, Dec 10th
Stand in Solidarity with the Haitian People!

Protest against US-backed dictatorship in Haiti!
 Demand Respect for the Human Rights of All!
Tout Moun Se Moun!
Where: 2600 El Camino Real W, Mountain View, CA 94040 (In front of the Wells Fargo at intersection of El Camino Real and San Antonio Rd.)
When: International Human Rights Day, December 10th, 4:15 PM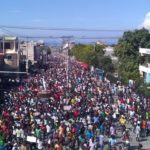 Ever since the 2004 US-backed coup that violently removed the popular, democratic, and constitutional government of Jean- Bertrand Aristide, the people of Haiti have been relentlessly protesting for the restoration of democracy and the respect of their basic human rights. They have done so in face of severe repression, including mass killings by the UN occupation troops, the Haitian police, and right-wing death squads. Recently, under the US-installed puppet regime of Jovenel Moise and Jean-Henri Ceant, this repression has intensified to stop the ever-growing protests by unarmed Haitians outraged over regime land grabs and massive corruption, rising prices, and the ever-deteriorating conditions of life for the poor majority.
In particular, the regime has targeted students and teachers who have been demanding basic educational funding. Just within the Port-au-Prince area alone, over the past several weeks, we have seen the police killing of a student leader on 10/31/18, the shootings during the week of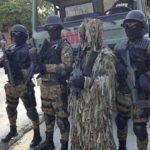 11/5/18 of teachers and high school students in the Cite Soleil region protesting months of non-payment of overdue salaries and the lack of educational supplies, the mass killings and land-grab expulsion in the Canaan region, and the massacre this past Tuesday November 13, 2018 in the community of La Saline. The death toll from this last massacre varies as reports from witnesses are being assessed; many people were reportedly disappeared and bodies were also reportedly carted away.
As students, teachers, and concerned community members in the Bay Area of California, we stand in full solidarity with the people of Haiti as they struggle for their liberation.
We demand that the basic human rights of the Haitian people– including to education and healthcare– are fully respected!
What You Can Do:
Contact Your Representative and Senators and ask that they exercise their leadership in Congress to call for an end of US support for the UN occupation of Haiti and the illegitimate, puppet regime of Jovenel Moise.
Sponsored by Students for Haiti Solidarity and the Haiti Action Committee
For more information, contact Seth Donnelly at 650-814-8495